Welcome to Our Service Department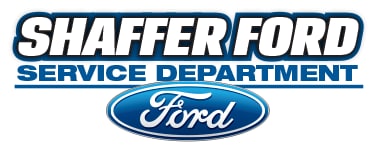 Schedule Service at Shaffer Ford
Whether your Ford is getting on in years or fresh off the dealership's lot, it will benefit from regular maintenance. Choosing a trustworthy mechanic can sometimes feel challenging, and that's why we offer a full range of services and repairs by some of the most highly trained technicians in the area at Shaffer Ford.
Comprehensive Engine Care
Your vehicle represents a significant investment, so it's vital to keep your engine from aging faster than it should by getting regular oil changes, inspections, and services that maintain its performance. Clean oil will protect your engine against abrasive wear and tear, in addition to improving your gas mileage. Regular inspections will catch failing hoses, weak batteries, leaks, and cracks before they become expensive problems.
Maintenance for Your Brakes and Tires
Your engine might be in great shape, but if you neglect your tires or brakes, you won't get far. That's why you never want to ignore low tire pressure or your next scheduled tire rotation. Staying on top of tire care will help you avoid a flat tire. Your brake pads and fluid should get changed regularly to maintain your stopping power.
Why is Service at a Dealership Better?
Certainly, it's admirable to be a jack of all trades like most all-purpose mechanics. When it comes to quality vehicle care, a technician certified in Ford maintenance will be able to quickly diagnose and repair an issue because they received specialized training. Dealerships also carry parts manufactured by the automobile company, so you know they're going to fit correctly, function as they should, and maintain your warranty. Our OEM parts come from the same quality components and metals as the original parts in your vehicle. At our Ford service station, we take automotive care seriously, and we always offer you exemplary service whenever you bring your vehicle to us.