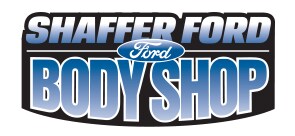 The Ford Motor Company has incorporated military grade aluminum as part of the construction of the 2015 F-150. The Shaffer Ford Body Shop has met that challenge by investing in the necessary tools and training! Don't leave your aluminum body work to chance-choose the specially trained and certified experts!
Our body shop a state-of-the-art facility that offers very high-quality body repairs on all makes and models. If you've been involved in a traffic accident, that annoying at-home back-up crash into your lawnmower, or just have a car or truck that is starting to show its age and needs a freshening-up, give us a call or stop by.
We work on any make and model vehicle-and we take all insurances!
Free Estimates
ASE/ICAR Certified Technicians
Shuttle Service

Service Hours:
Monday - Friday
8:00 am - 5:00 pm

10335 Mount Savage Road, NW
Cumberland, MD 21502

We are located in the back of the dealership building.
Just follow the signs!