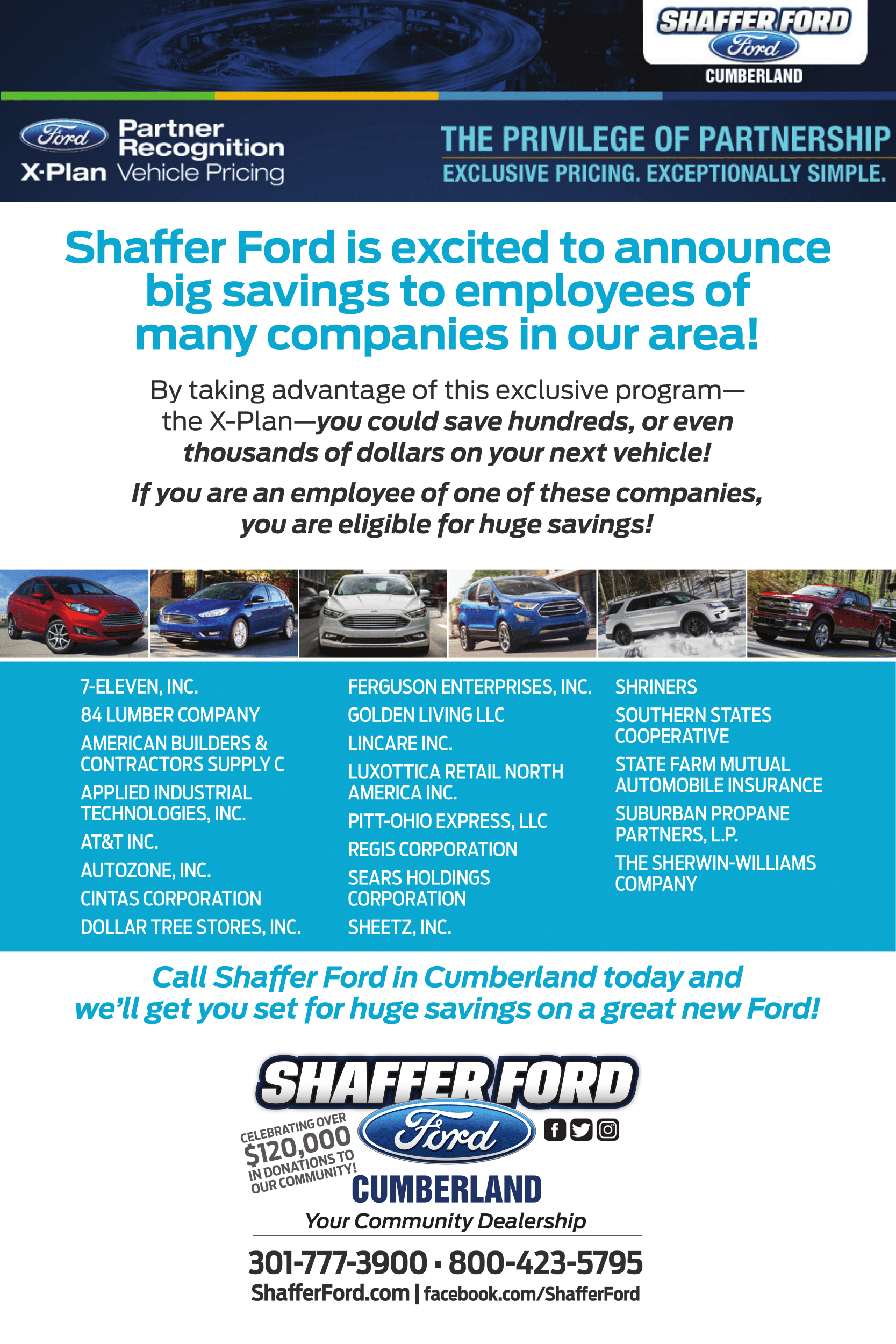 Here's some great news from the Ford Motor Company for
X-Plan participants!
The Ford Partner Recognition Program X-Plan incentive program that was currently available to members of Shriners affiliates has now been expanded to include the following local companies and their employees:
CSX
Martins
ATK
Wal Mart
Sheetz
UPS
PITT OHIO
and more!
Shaffer Ford is excited to announce the savings to all of these important organizations in our area!
Through the Ford Partner Recognition Program, participating companies are eligible for a substantial discount on a new purchase or lease of a Ford Motor Company vehicle. By taking advantage of this exclusive program, also known as the X-Plan, you could save hundreds, or even thousands of dollars on your next vehicle!
For further details about the program, including pricing, eligibility, and plan rules, check out www.fordpartner.com. Follow the steps below to log into the web site and to generate a PIN you will need when you purchase your vehicle.

Some restrictions and exclusions may apply. The X-Plan is not available in Puerto Rico or the Virgin Islands.
How does it work?
Follow the simple steps below to get started!
Log in to the official Partner website, www.fordpartner.com, using the partner code supplied by your employer (if you are unable to get one, call Shaffer Ford at 301-777-3900 and we will assist you).
Follow the simple instruction steps on the homepage.
When you're ready to buy a vehicle, visit a participating dealer and immediately identify yourself as an X-Plan Partner Recognition participant.
Provide the dealer with the last four digits of your Social Security Number (Social Insurance Number) and PIN to verify eligibility.
Provide proof of organization membership or employment with a recent dues card, hospital ID, pay stub, W-2 (T4) form, or healthcare card.
Select an eligible vehicle and ask for a copy of the invoice to confirm plan pricing.
Make your financing arrangements, and drive away in your new set of wheels!